How to Search and View Proposals
All existing and in progress course, program, and prospectus proposals can be viewed from the CourseLeaf CIM Course Management, Program Management, and Prospectus Management dashboards.
Search Proposals
To search for proposals, log in to the appropriate CourseLeaf CIM dashboard:
Search Tips
Icon of a magnifying glass
There are several different ways to search for a course. Keep in mind that an asterisk is a wildcard and can be used at any place within your search terms to stand in for missing information. Searching on just an asterisk will return all courses in CIM.
Course Code or Program Code

BIOL 115 will return BIOL 115

Keyword

Physics will return any course with Physics in the title

Keyword plus asterisk

*physic* will return Biophysics, Physical Education, and anything else with physic in the title

Step in workflow (seen in the workflow column of the landing page)

ACCT Chair will return all courses currently at the ACCT Chair step in workflow

Status (seen in the status column of the landing page)

edited will return all courses being edited
View Proposals
To view for proposals, log in to the appropriate CourseLeaf CIM dashboard:
Once you locate the appropriate proposal in the results table, select the proposal row in the results box.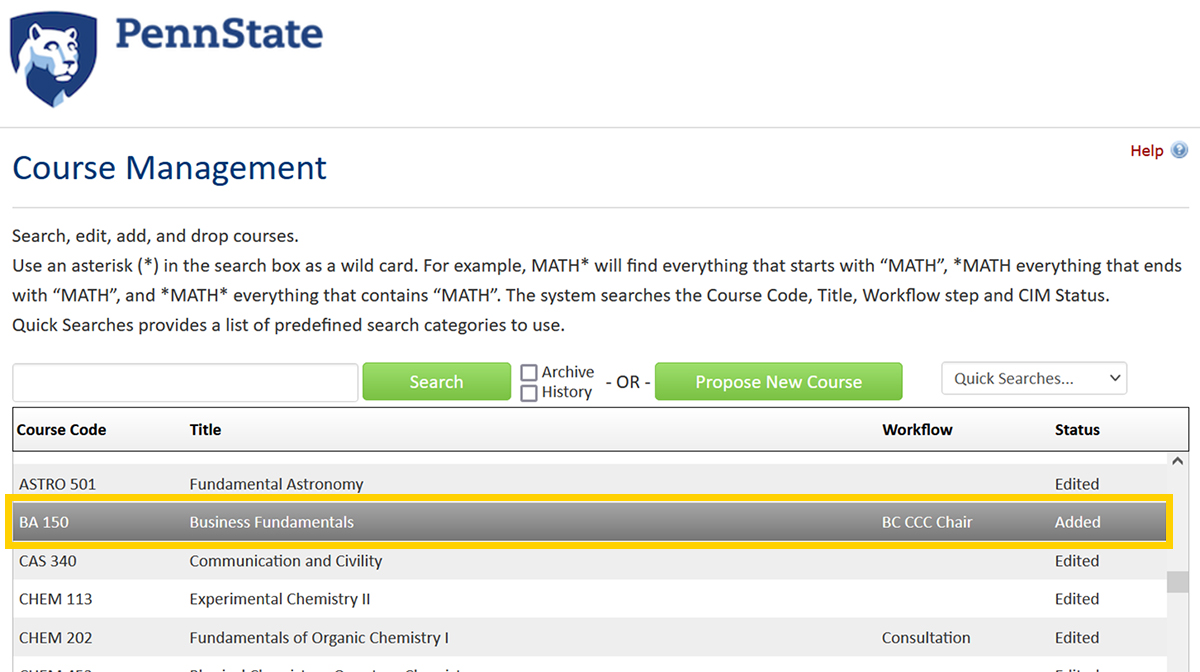 Below the results table will be a preview panel of the currently selected proposal. To print the proposal, use your browser's print function, usually accessed by typing CTRL+P on Windows or Command-P on Apple.